"I believe in astrology as much as I do in god existence, anyone can be a millionaire, but to become a billionaire you need an astrologer."– says Astrologer Sahu Ji (Manoj Sahu).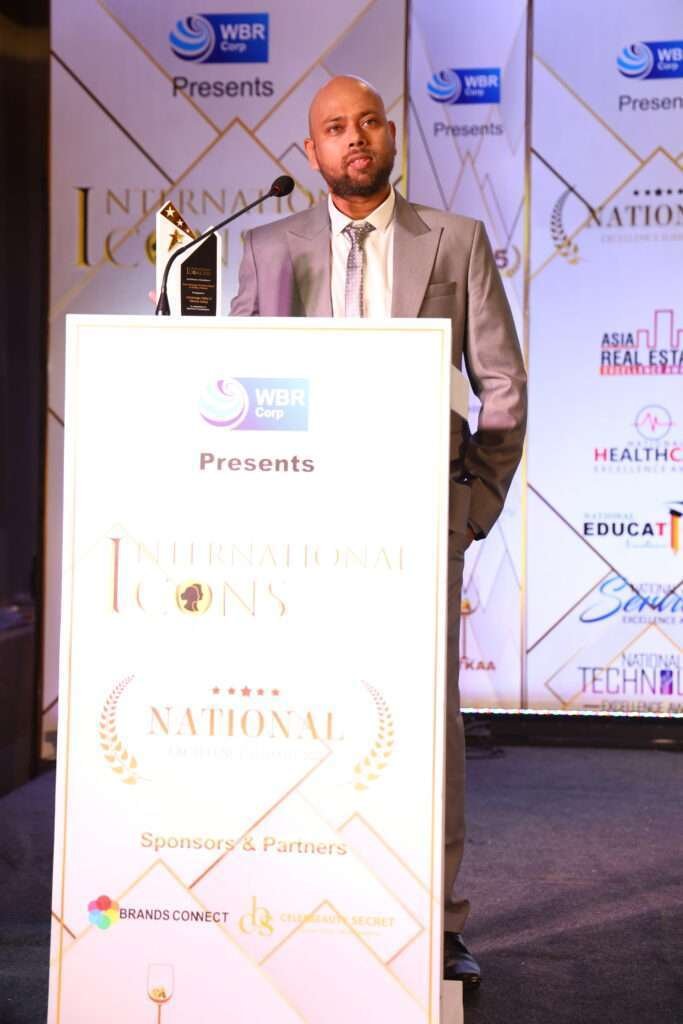 India's well-known Vedic Astrologer Manoj Sahu Ji was recognised with the prestigious Internationa Icon Award at India's capital Delhi for his excellency, by the honourable Actor Ms. Lara Dutta. Internationa Icon awards are an annual award event organised by WBR Corp for honouring the best person, community or institution for their outstanding role pertaining to diverse businesses.
During his 23 years of knowledge journey, Astrologer Sahu Ji has served people around 2 Lakh globally. His list of Satisfied Clients hails from countries like CANADA, USA, UAE, England, Dubai, Qatar etc. Astrologer Sahu Ji provides accurate scientific predictions about Astrology. He offers his services relating to disputes in Finance, Business, Love, Marriage, Career, Health, Vastu, etc.
Astrologer Sahu Ji is someone you can look up to in your hard times. According to his clients, he is excellent in predicting the astrological events of one's life like Marriage, Love, Career, Financial losses, Family or Property Issues, Vastu problems, etc. As a good counsellor-Astrologer, he helps his clients with short, simple & effective remedies. During the pandemic era, he also provided online astrology consultation to people in grief and solved many health-related problems.
Astrologer Sahu Ji offers a series of astrology services without burdening a client's pocket. His services extend from Vedic astrology, Lal Kitab, Signature Astrology, Numerology, Gems Astrology, Palmistry, Horoscope, love psychic readings, birth chart analysis, etc. He lives in Indore city and you won't believe each politician an business man knows him personally for his best astrology along with the result under the time period. His astrological remedies and innovative solutions have always helped him eliminate people's life complications. Undoubtedly, he is one of the best astrologers in India for Spiritual Healing, Psychic Reading, Horoscope Reading, Palmistry, Vastu Shastra, and other related subjects in India.
Astrologer Sahu Ji is an internationally acclaimed Vedic Astrologer who has won numerous national and international awards and accolades for his proficient and social initiatives on society. In 2019 alone, he was bestowed with prestigious awards such as – Xel Global Choice Award 2019 by best renowned Actor Jackie Shroff at Delhi. Pride of India Awards 2020 by Actor Suniel Shetty held in Delhi, followed by The Nakshatra Awards 2020 (Raipur) by Ex. Cabinet Minister Murli Manohar Joshi Ji (Padam Vibhushit), & Asian Pacific Excellence Award 2021 (Jalandhar) by ABJSM Ajay Bhambi, GD Vashisht. The Radio Astro Award 2021 is added to the list, which puts him in the international league. Astrologer Sahu Ji regularly receives invitations to speak his mind in many international organisations for Astrology Speaks. He won the Life Time Membership in the IAF Award function held in 2020 in Banglore. The gifted personality is also the proud recipient of the 'Jyotish Padmashree & Nakshatra Ratna' Award in Astrology. renowned vedic astrologer sahu ji awarded International Icon Award by Lara Dutta at New Delhi, There are 1000 entrepreneurs participated across the India among them sahu ji is bestowed for Best Astrologer and Numerologist in Madhya Pradesh IIA award.
To quote Astrologer Sahu Ji, "I believe in astrology as much as I do in god existence, anyone can be a millionaire, but to become a billionaire you need an astrologer." One can reach out to the master astrologer for his excellent & practical understanding of nature and past karma astrology, learning to settle their life issues.
A well-structured factory is perhaps can't grant all-round contentment to the owner in terms of wealth, health,…